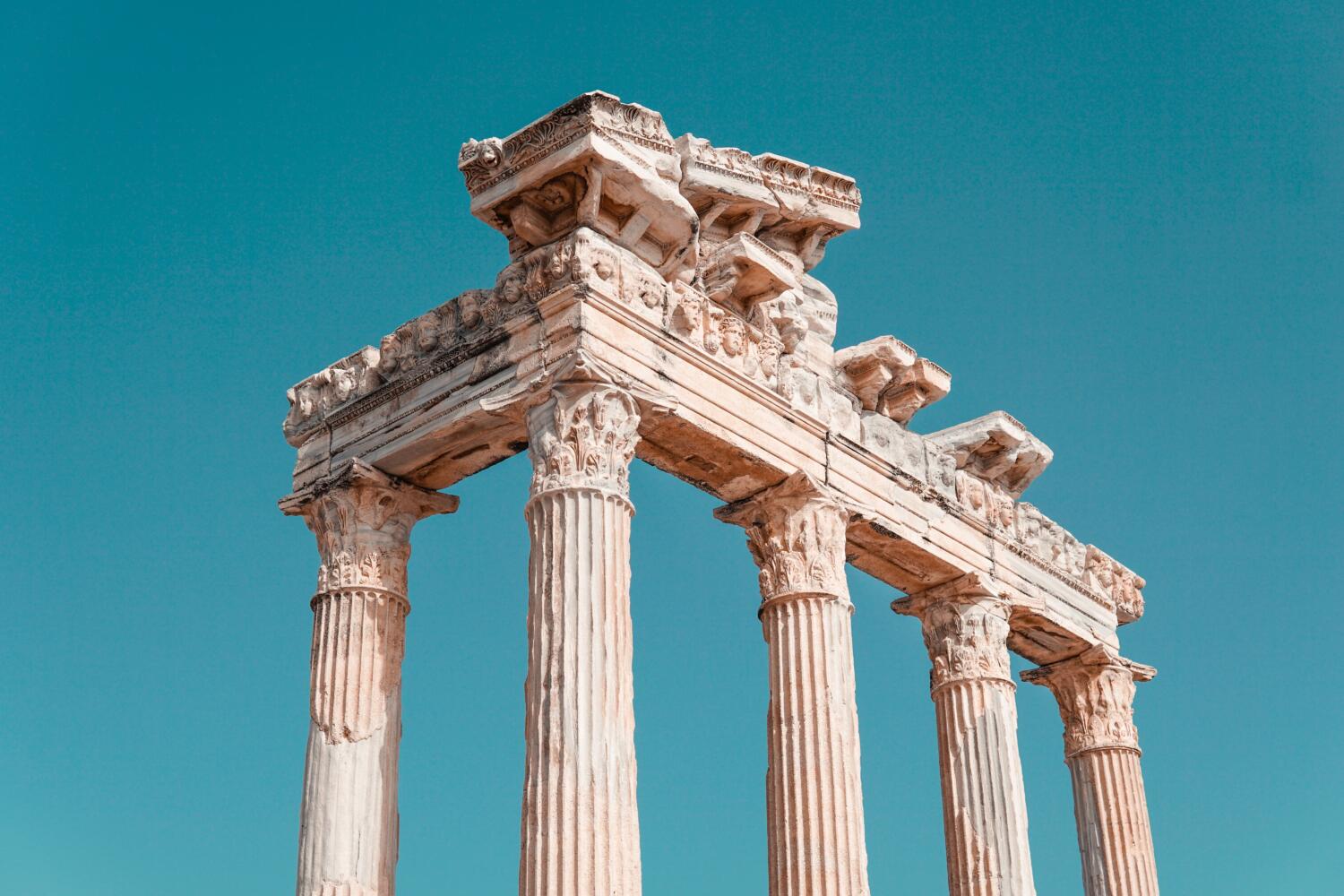 Forum Summary: What are your pillars?
Author: Kaleb Johnson | Student, Living Education – Charlotte, 2022-23
---
Estimated Reading Time: 4 min.
In his recent forum, Mr. Smith educated the Living Education–Charlotte students on pillars and how they affect our view of the world.
He explained how we could examine ourselves to identify our current pillars, and what beliefs the students need to prioritize in their lives. He shared his top three pillars of belief and encouraged the students to use the time in this program to examine themselves and build a strong foundation.
Finding Our Pillars of Belief
Mr. Smith began by asking the students to make a list of five basic things we believed were true. The students obliged him and produced a list ranging from the mundane to the profound. Mr. Smith then proclaimed a startling truth: Every belief we have affects how we view the world around us."[Worldview is] a collection of things that help your mind to interpret everything you look at. What's good; what's wrong; what's true; what's false." These things are facts, misunderstandings, experiences, and assumptions that we have made through our life, and they affect our understanding of reality.
We may not comprehend why we have certain opinions about an object or behavior, but our perception of that object or behavior is based on beliefs that we possess. As Mr. Smith said, "Every belief we have is a pillar; it just may not be supporting much." He then told the students, "The challenge for you, at this age, is to create as accurate a worldview as you can so that you see the world rightly." Society tries to convince us that there is no objective reality, but true Christians must strive to see the world as God does. This means examining all our worldviews to see if they are in line with God, and then uprooting the beliefs that support erroneous worldviews. In addition, we need to strengthen the pillars of belief that support a godly worldview so they are solid enough to endure the trials and temptations that will attempt to shake them.
Choosing the Right Pillars
Again, Mr. Smith had the students write down beliefs, but this time we were to write down three beliefs that we considered to be "load-bearing" pillars, meaning supports that were most essential to our interpretation of reality. Then, Mr. Smith revealed the three foundational pillars he had derived over years of consideration. His first pillar is the belief that God exists. As Mr. Smith elaborated, this pillar is critical as it supports so much of his worldview and conduct of life. If it were to fall, many other pillars would crumble as well. Thus, it is imperative that a true Christian strengthen and solidify this belief.
Then, he moved on to his second pillar—Jesus Christ is the Son of God. Mr. Smith put this as the second most important pillar, citing John 17:3 and the criticality of knowing Christ. Furthermore, these two beliefs can support one another. We can trust what Christ reveals about the nature of God, and we can prove that Christ lived and was raised from the dead, a miracle which requires a God.
For the third pillar, Mr. Smith brought forward his belief that the Bible is the word of God. Any doubt on this third pillar can be cured by the first two, as Christ said that "the scripture cannot be broken" (John 10:35). And by extension, much of the life of Christ and the nature of God is delineated within the Holy Bible. Further Godly beliefs are important and necessary, but these three pillars build a structure that bears much of the load of an accurate and godly worldview.
Strengthening and Refining Our Pillars
Mr. Smith concluded by encouraging the students to strengthen these load-bearing pillars by putting in "time, effort, prayer, and meditation." As he said further, "These are things that are deserving of our time, and yet we rarely give them that kind of time." Mr. Smith admonished the students to use this time, while we are still young, to consider our beliefs, our worldview, and the strength of our convictions. Trials will come in life and challenge one's beliefs, and these godly pillars of belief must be strong. A true Christian must uproot those pillars that support bad and faulty worldviews as they manifest themselves in that Christian's life.
https://www.lcgeducation.org/wp-content/uploads/2022/09/mert-kahveci-uOjIbPvW5J0-unsplash.jpg
1000
1500
lcgadmin
https://www.lcgeducation.org/wp-content/uploads/2021/02/logo_basic-website-300x94.png
lcgadmin
2022-09-08 17:14:21
2022-09-09 10:55:10
Forum Summary: What are your pillars?