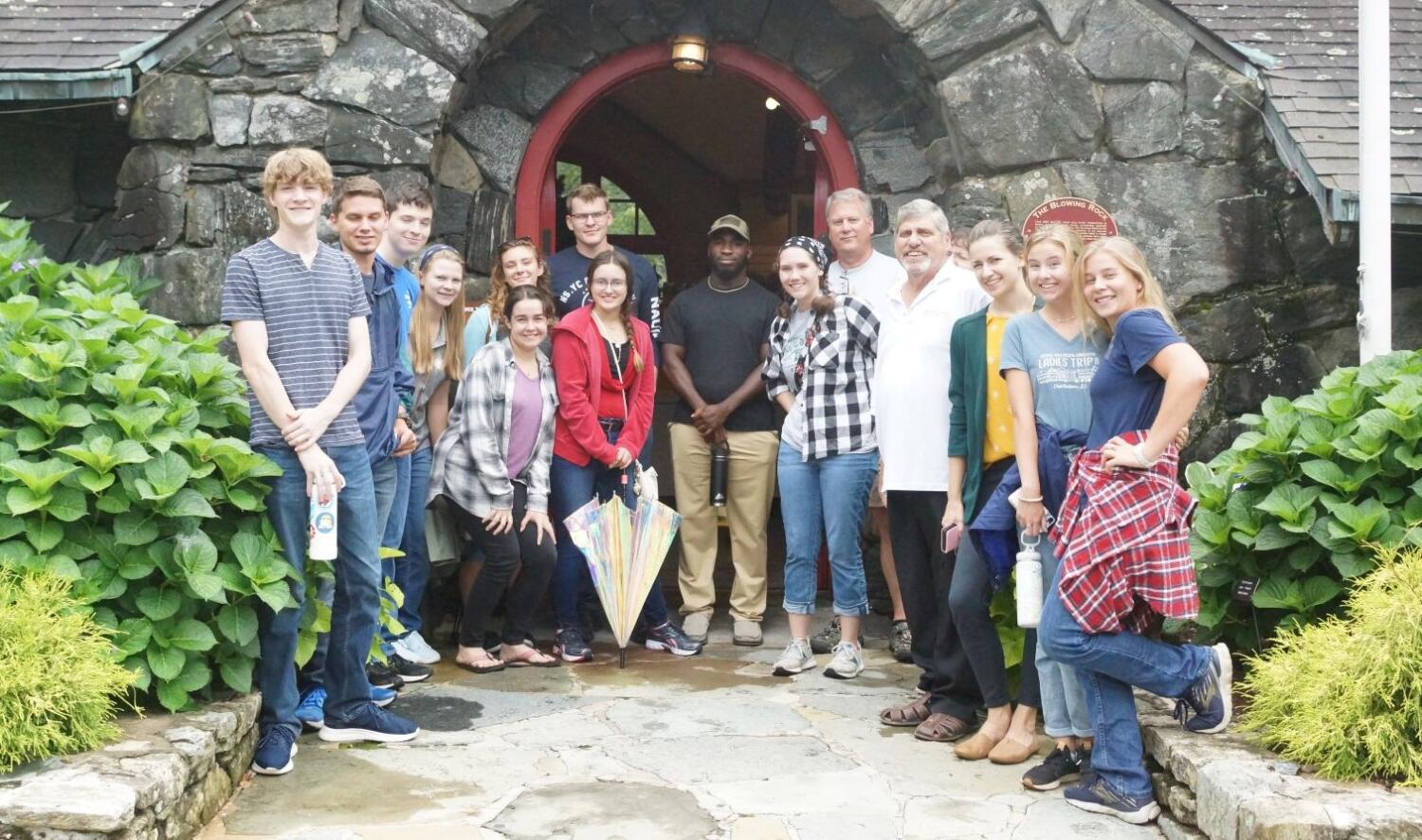 Student Life: Orientation Trip 2022

Author: Kaleb Johnson | Student, Living Education – Charlotte, 2022-23
---
Estimated Reading Time: 4 min.
Living Education–Charlotte does orientation a little differently than most places.
Rather than beginning classes immediately like most learning institutions, Living Ed. has an "Orientation Trip" to Blowing Rock, NC. This was a welcome difference for me, and I found this trip much more engaging than the orientations I had been to during my time at university. In this post, I'll share with you what we did on this trip and why I found it much more enjoyable than most orientations.
Leaving for Blowing Rock, NC.
On Sunday afternoon, nine students, along with student leaders and faculty, piled into three cars, and we took off on the three hour trip from the dorms in Charlotte to the cabins we were staying at in Blowing Rock. Fortunately, the staff are all excellent drivers, and we did arrive safely and intact. To our delight (or at least mine), we found that dinner had been prepared, and we had a fine meal together in the main cabin allowing us students to get to know each other and to get to know the staff.
First Day of Orientation 
On Monday morning, we had breakfast and then headed up to a conference room for the instructors to talk to us about the program. Mr. McNair began by introducing the principles of the program, and then Mr. Frank gave us the frank history of education in the Church, highlighting its importance. Following this, Mr. McNair gave us tips on succeeding in this program and in life. Miss Ross then introduced the role music has in the program and gave specific advice to the ladies in the program. Before lunch, Mr. Ruddelson focused on serving the local Charlotte congregation and each other and gave us practical advice for living together in peace. And then we took a break for lunch.
In the afternoon, Mr. Tlumak shared some of his life experiences and told us how to get the most out of the next nine months. Then, Mr. McNair showed us a motivational speech, explained the program's expectations from each of us, and then challenged us to really embrace the program and grow as much as we can.
The Blowing Rock Tour
After being sufficiently informed and motivated, we went to tour the Blowing Rock park. When we got there, we found a slight issue with the weather that day. We could not see anything. The fog was so thick that we could only see about thirty feet in front of us! This supplied an endless amount of jokes regarding objects we could "see" on the horizon, and the visit ended up being a great experience that all of us students share.
Whitewater Rafting 
On Tuesday morning, we all had breakfast together again before we cleaned up our cabins and left them tidy. We packed into the three cars again and departed for Boone, NC, for Whitewater rafting. Mr. McNair politely informed us that the water would be a little bit cold. When we got into the water, we discovered that it was indeed a little bit cold, about 40℉ to be precise. All the students, Mr. McNair, Miss Ross, and Mr. Ruddelson divided up into two rafts and shoved off into the frosty rapids. We felt every splash of water and relished every break in the sun on the way down. Despite the frigid temperature, we all jumped in the water and swam around, and the two rafts engaged in some friendly splashing and water gun fights. After we pulled the rafts out of the frosty river, we changed into dry clothes and then departed for the dorms in Charlotte.
Conclusions
Living Education – Charlotte doesn't immediately begin with classes with the expectation that the students will build friendships along the way, despite all the stress and distractions that come with the beginning of a semester. Rather, this program begins with a little adventure. This experience allows the new students to get to know each other in a stress-free environment, lets the instructors introduce themselves as individuals and not just teachers, and gives the new students a shared memory that they can use to establish relationships between each other that they will continue to build over the course of the year.
https://www.lcgeducation.org/wp-content/uploads/2022/09/DSC03861-2.jpg
886
1500
lcgadmin
https://www.lcgeducation.org/wp-content/uploads/2021/02/logo_basic-website-300x94.png
lcgadmin
2022-09-09 12:30:00
2022-09-08 15:52:19
Student Life: Orientation Trip 2022