THE LIVING EDUCATION ARCHAEOLOGICAL DIG AND STUDY TOUR IS A TRIP OF A LIFETIME.
For 18 days, participants enjoy a study tour of the most famous places in Biblical history. During the first 10 days of the trip, every day will brings a new remarkable experience visiting famous sites such as Caesarea, Mount Carmel, Dan, Capernaum, the Sea of Galilee, Armageddon, Jordan River, Masada, Dead Sea, Old City of Jerusalem, Temple Mount, Mount of Olives, the City of David and many more.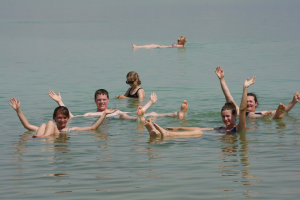 After the main tour the group spends a week participating in an archaeological dig at the biblical site of Libnah in the Shephlah region of biblical Judah. This will provide students the opportunity to dig into 3000 years of history discovering the city from the Iron Age time of the Kings of Judah. During the dig week the group will have the opportunity to live in the Valley of Elah where David fought Goliath and visit famous biblical sites of Azekah, Gath, Lachish, Meresha, Gezer, and the Cave of Adullum. Students see the ancient cities of the Kings of Judah and walk the same ground as the first century Apostles.
The Dig/Study Tour is an exciting adventure! It expands participants' understanding of biblical geography, of biblical events and bring the bible alive as only a feet-on-the-ground experience in the land of Israel can deliver.
What is a "Men's Training Camp?"
We live in a time of crisis for men in our society. But there are ways to fight the demise of the Godly role of men in the family, community and society. The best mechanism is to have Godly fathers and male role models in the church. We can also offer education in sermons, Bible Study topics and Spokesman's Club. But a concentrated, focused "Spiritual Training Camp" is another mechanism that can help. The purpose of this weekend activity is threefold.
To gather men together with other men to build bonds of brotherhood, building and deepening friendships. Men need to know and respect other men in the church. That takes time and face to face contact.
To learn together how to be better and sharper tools in God's hands. In other words, this weekend is a time of "continuing, concentrated education."
To worship God together. We face a society that is hostile to God. The challenges and temptations create a minefield for us and we, together, need to beseech God for His help to navigate this spiritual minefield.
This type of weekend is meant to be a "spiritual bootcamp" for all men. It is not necessarily designed to be a "leadership training" weekend.  All men in the congregation are encouraged to get involved – even if they don't consider themselves leaders.  Our goal with this program is to focus the attention of all of our men on becoming better husbands, fathers and Christians.  This is the foundation upon which leadership is built.
Upcoming Men's Training Camps
Phoenix, Arizona  ( February 14-16)
Blowing Rock, North Carolina ( August 21-23)
Why a Holy Day Weekend Activity?
In Exodus 13, God instructed the Israelites to remember their escape from Egypt year after year. They were commanded to remind their children of the miraculous intervention that God had shown them as He brought them out of Egypt. We recognize that God has shown us the same mercy and kindness. Each year, we observe the Days of Unleavened Bread and recount the same lessons.But are the lessons lost as we try to squeeze our observance of God's Passover and Holy Days into our normal routine? By getting away from the hustle and bustle and gathering with our brethren as we begin the Spring Holy Day season, we give added weight to these special days. We focus on fellowshipping, learning, and worshipping God together.
This year, Living Education will again sponsor a multi-day educational activities in the mountains of North Carolina as the Spring Holy Days begin.