Artist: Ava Mitchell—Plainview, NY
Have you ever had a "great" day?
Maybe your parents took your family to the beach where you got to play in the sand and the waves all day long before you finished off the afternoon with a large ice cream cone. Or perhaps you had a great day when you and some of your closest friends spent the day at an amusement park riding roller coasters and eating popcorn and funnel cakes. Whatever you may consider to have been a "great" day, nothing compares to how great the Last Great Day is going to be! When God calls something great, there can be no mistake that it is certainly GREAT!
---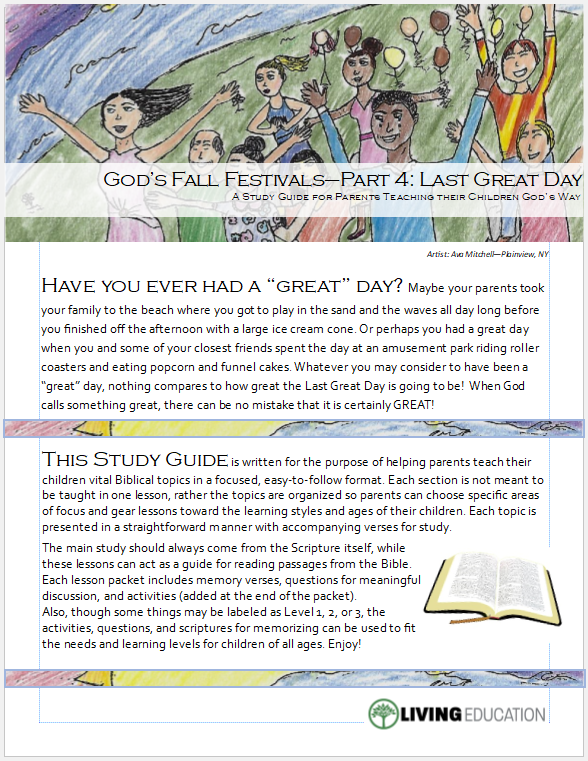 How it works:
This Study Guide is written for the purpose of helping parents teach their children vital Biblical topics in a focused, easy-to-follow format. Each section is not meant to be taught in one lesson, rather the topics are organized so parents can choose specific areas of focus and gear lessons toward the learning styles and ages of their children. Each topic is presented in a straightforward manner with accompanying verses for study. The main study should always come from the Scripture itself, while these lessons can act as a guide for reading passages from the Bible. Each lesson packet includes memory verses, questions for meaningful discussion, and activities (added at the end of the packet). Also, though some things may be labeled as Level 1, 2, or 3, the activities, questions, and scriptures for memorizing can be used to fit the needs and learning levels for children of all ages. Enjoy!
---
Fall Holy Days Coloring Pages
Prepare for Feast by printing out some of these GREAT coloring pages! All of the coloring pictures are selected submissions from our Fall Holy Days Art Contest.
What pictures are included?
"Lamb" – Artist: Maleewan Foster—Charlotte, NC
"It Won't Be Long Now" – Artist: Lexi, Mitchell—Plainview, NY
"Girl on a Bridge" – Artist: Grace White—Morgantown, WV
"Bear and Baby" – Artist: Brandon Fall—SeaTac, WA
"The Living Water Sea" – Artist: Joseph Ross—Dubuque, IA
"Kingdom Creatures" – Artist: Amber Leonard— Charlotte, NC
"Jerusalem" – Artist: Susan Winnail—Tampa, FL
"The Last Great Day" – Artist: Ava Mitchell—Plainview, NY
---
All images displayed in this post were submitted by private artists who have granted all rights and permissions of use to Living Education for the purpose of education, and/or promotional publication, in accordance with the Fall Holy Days Art Contest Rules and Guidelines. Coloring Pages may be printed for personal use ONLY. All rights reserved.
https://www.lcgeducation.org/wp-content/uploads/2019/10/Avas-colored-picture.jpg
1500
1166
Rebekah Ross
https://www.lcgeducation.org/wp-content/uploads/2021/02/logo_basic-website-300x94.png
Rebekah Ross
2019-10-11 10:03:32
2020-06-19 12:06:40
God's Fall Festivals – Part 4: Last Great Day