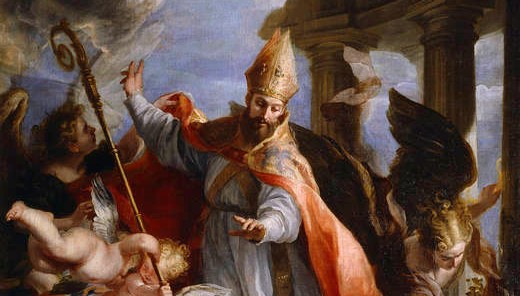 Forum Summary: A Brief History of the Predestination Doctrine
Author: Ryan Price | Student, Living Education – Charlotte, 2021-22
---
Estimated Reading Time: 3 min.
John Calvin, an important figure in the Protestant Reformation, preached, "All are not created on equal terms, but some are preordained to eternal life, others to eternal damnation." This teaching is known as the doctrine of predestination. It was first philosophized by Augustine of Hippo, who is considered the "greatest of the Catholic Fathers" and one of the four doctors of Catholic theology. For this recent Living Education forum, Mr. Wyatt Ciesielka gave the students a brief history of this false doctrine and examined what the Bible says on the matter.
What is Predestination?
Put simply, predestination is the teaching that one's destiny is set in stone; one is either born to be saved or born to be condemned. It was originally taught by Augustine and later found use in Protestant theology by John Calvin and Martin Luther. However, nowhere does the Bible say that God predetermines some to salvation and some to condemnation. The father of this doctrine, Augustine, converted from Manichaeism—a dead religion similar to Zoroastrianism—and carried the doctrines of the immortal soul and predestination with him. John Calvin adopted this idea and expanded it, teaching that Adam was created good, but after Adam and Eve sinned, their souls were so corrupted that they were incapable of doing any good whatsoever, apart from God's saving grace.
One can see where issues arise with this belief—if we can't do good, then why even try? That is precisely the conclusion many religious thinkers come to, believing that as long as someone loves Jesus, they are saved. Some go even further, as Martin Luther did, in believing that God created some souls predestined to be saved, but created others in a state of "reprobation." Luther wrote, "Hence, God is the cause why men sin and are condemned," falsely teaching that many are predestined to eternal hellfire.
What Does the Bible Actually Say about Predestination?
The Bible does address predestination—however, it's not what many religions teach it to be. In Romans 8:29–30, we read, "For whom He foreknew, He also predestined to be conformed to the image of His Son, that He might be the firstborn among many brethren. Moreover whom He predestined, these He also called; whom He called, these He also justified; and whom He justified, these He also glorified." Here we can see that predestination has to do with being pre-called, not pre-judged!
God is fair, and He will give everyone an opportunity to choose Him. The predestination mentioned in the Bible simply determines when that opportunity will present itself.
God chooses to give us special knowledge as to where our deceased loved ones are and the future that awaits us if we keep His laws. We have an understanding of the Last Great Day, which pictures the time of the Great White Throne Judgment. However, those practicing mainstream Christianity do not have this knowledge, and many have been terrified as a result of ignorance. They don't know whether their deceased family members are in heaven or hell, and this false understanding of predestination only makes it worse. Yet their time to understand will come. We have been blessed to be among those called to be potential firstfruits of God's Family. However, that doesn't mean we are guaranteed entrance into His Kingdom—for that, we have to do our part to develop God's character within ourselves through His Holy Spirit. As 2 Peter 1:10 reminds us, we must "be even more diligent to make your call and election sure."
https://www.lcgeducation.org/wp-content/uploads/2021/12/Triunfo_de_San_Agustin-2.jpg
296
520
lcgadmin
https://www.lcgeducation.org/wp-content/uploads/2021/02/logo_basic-website-300x94.png
lcgadmin
2021-12-28 09:08:00
2022-01-14 11:19:59
Forum Summary: A Brief History of the Predestination Doctrine