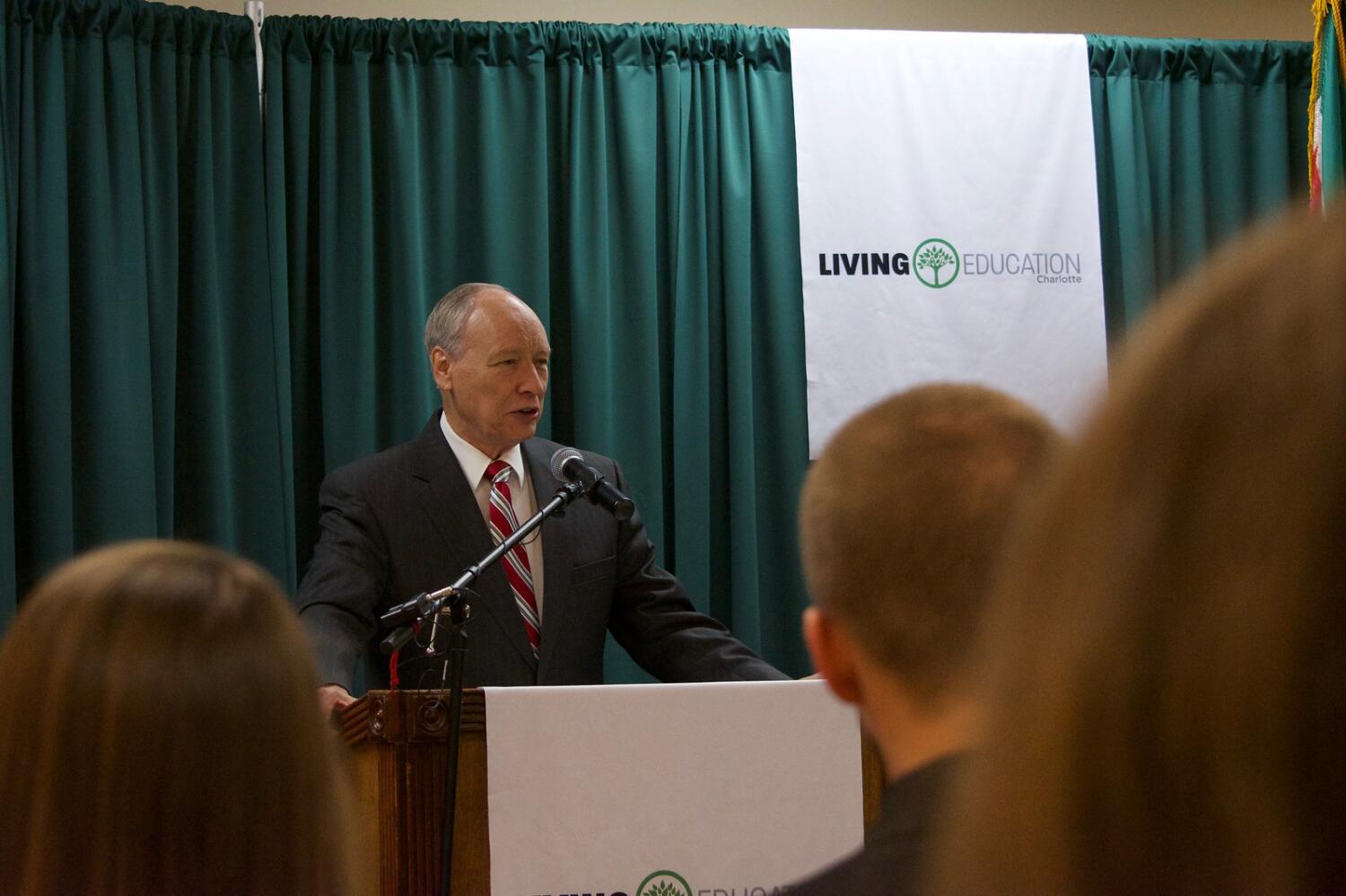 Assembly Summary: Know Those Who Labor Among You
Author: Juliette McNair | Student, Living Education Charlotte 2020
---
Estimated reading time: 3 min. 35 sec.
This past week, Mr. Gerald Weston gave a "This Is My Life" style assembly. He began with 1 Thessalonians 5:12, relating Paul's admonition to know and understand where our leaders are coming from. To help the students know him better, he told the story of his life.  
Early Life
Mr. Weston moved nine times by the time he turned fourteen; his father served in the Air Force. Living at the Vandenburg Air Force Base in California during the Cold War, he said, "If there ever was a war, I would be sitting at ground zero." Mr. Weston "grew up in the shadow of the bomb." ICBMs were regularly tested at the base. Mr. Weston's father helped develop MIRVs, and his squadron loaded nuclear weapons onto aircraft.  
As a young man, Mr. Weston was in the Boy Scouts, the Civil Air Patrol, and Search and Rescue. He played baseball, football, swam, and ran track in high school. When he was fifteen years old, a friend on his bus gave him The Book of Revelation Unveiled at Last; he finished reading it that evening. As he read more literature, his interest in the Church grew—as did his parent's disapproval. Mr. Weston listened to The World Tomorrow on KGO San Francisco, with his hand on the dial—ready to switch stations should they walk into his room. He began to keep the Sabbath at the local library, finishing his work around the house earlier in the week to do so. Following the food laws was a challenge in his household; on one occasion, his father was not pleased when he refused to eat the pork spare ribs his mother had made. He said, "It was touch and go every time we had unclean meats for dinner." 
From College to the Ministry
Finally, in 1964, he moved out to attend Ventura College. "The first thing I did was call up the minister." After attending for only one Sabbath, he kept Atonement and then observed his first Feast of Tabernacles. The following year, Mr. Weston went to Ambassador College. He came to know Mr. Armstrong as a student in his "Principles of Christian Life" class. Mr. Weston explained that he could not claim to be close to him personally. "He wouldn't know me today," he said, "But I do know how he thought on many different things." Mr. Weston met his wife at Pasadena when she transferred from Big Sandy. Then, after graduating AC in 1969, he was hired to serve in the ministry.
On March 11, 1995, nine years after Mr. Armstrong's death, Mr. Weston gave his last sermon in the Kansas City congregation of the Worldwide Church of God. He asked three questions: Why are there such massive changes? Where is it heading? What should we do? After getting fired from the Worldwide Church of God ministry, he looked for where God was working and found Dr. Meredith continuing the Work in the Global Church of God. "That's where the Work was being done and the flock was being fed." He explained to us that we may one day have to make a decision that will affect the rest of our life and beyond—a choice between following our friends or following the truth.  
Over the years, Mr. Weston has lived in Houston, Texas; Lake Charles, Louisiana; Monroe, Louisiana; Michigan; Asheville, North Carolina; Kansas City, Missouri; Canada; the U.K; and finally, Charlotte, North Carolina. As a pastor in the Worldwide Church of God, he and his wife served at the youth camps in both Minnesota and Texas. In Global, he was asked to assist at the camps in Missouri and North Carolina. Then, from 1998 to 2008, he served as director of the Living Youth Camp in Michigan.
Mr. Weston advised us to learn from history and people's perspectives to understand what happens today. He encouraged us to "know those who labor among you."
---
This post is part of our new series of student-written content for LivingEd-Charlotte. These summaries cover topics originally presented by our faculty and guest speakers in our weekly Forum and Assembly. For more Assembly-related content check out our Second Thoughts posts.
https://www.lcgeducation.org/wp-content/uploads/2020/11/i-QTxPPTg-X3.jpg
999
1500
lcgadmin
https://www.lcgeducation.org/wp-content/uploads/2021/02/logo_basic-website-300x94.png
lcgadmin
2020-11-03 10:03:00
2020-11-03 14:06:39
Assembly Summary: Know Those Who Labor Among You