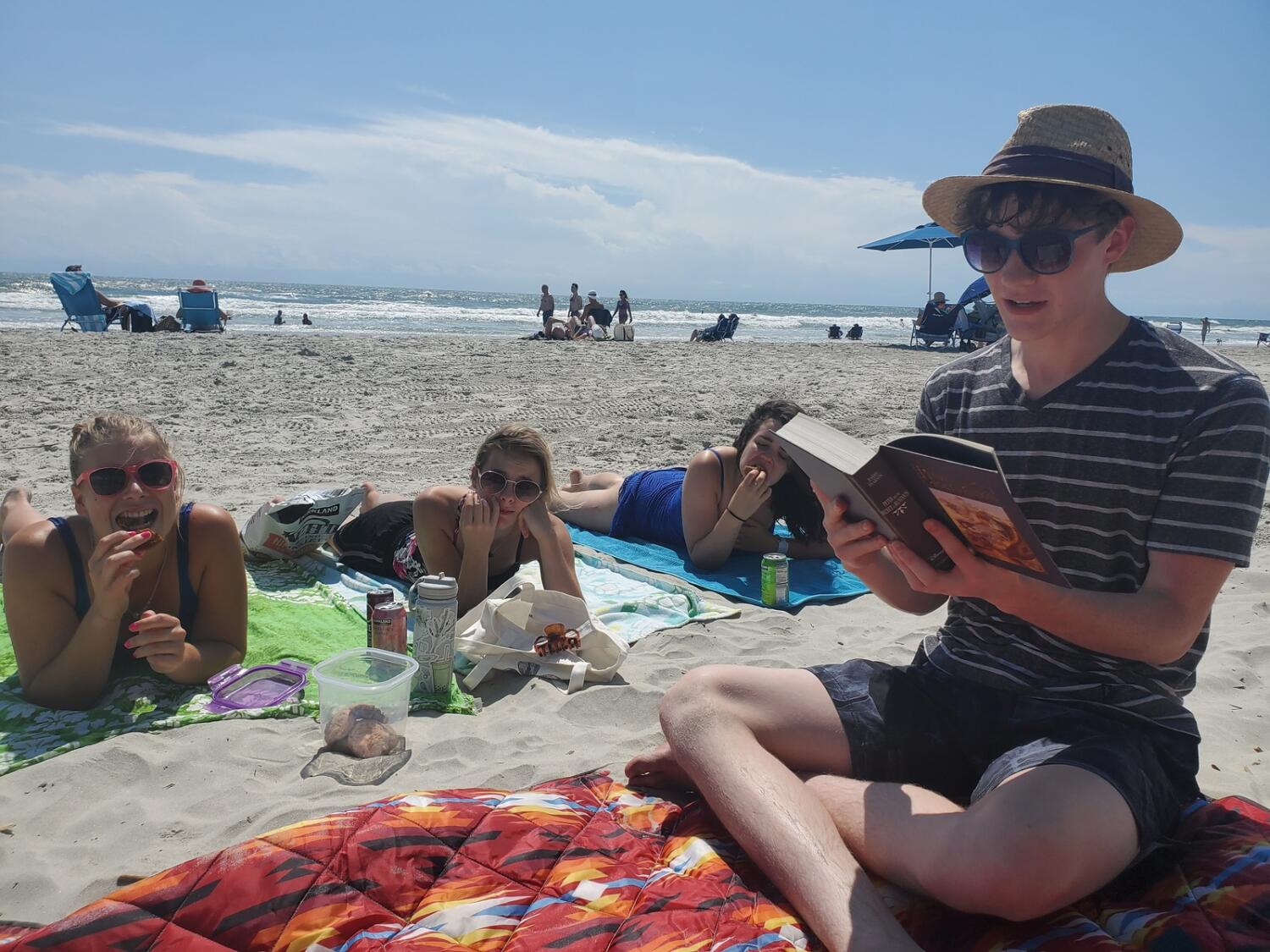 Student Life: A Day at the Beach
Author: Kaleb Johnson | Student, Living Education – Charlotte, 2022-23
---
Estimated Reading Time: 2 min.
On a beautiful, sunny Sunday, the LivingEd-Charlotte students took a trip to Sunset Beach and enjoyed big waves, good rays, and ocean spray; a good day away from the fray.
Our morning began bright and early. We got on the road by 7:30 and arrived at the beach by 11:30, and we wasted no time getting the fun started. The beach was picturesquely white and wide, and the water was warm and welcoming. We soon found ourselves lost in wild waves in a blissful blurr. We crashed in, out, under, and over the rolling ripples. When we had our fill, we took back to land and ate the packed lunch. We threw a football around; we lounged in the sun and read books. Some of us even played chess on a sandy board beneath the shifting shade of the canopy.
We paralleled the serene sea on a wandering walk as we all began to feel the fatigue that comes from swimming all afternoon. We watched the obdurate ocean continue to churn. It was a fine chance to get away from the distractions and expectations of day to day life. It invigorated and inspired us, and we left recharged and ready for the next week.
All the LivingEd students evacuated Sunset Beach with fond memories, illumined hearts, and exhausted muscles. Before we piled into the mobile vehicles again, we stopped to finish all the food and snacks that had been brought. A few of the students even threw a frisbee around, seeking to enjoy every last drop of fun.
https://www.lcgeducation.org/wp-content/uploads/2022/09/story-time-at-the-beach.jpg
1125
1500
lcgadmin
https://www.lcgeducation.org/wp-content/uploads/2021/02/logo_basic-website-300x94.png
lcgadmin
2022-09-23 12:30:00
2022-09-21 17:05:49
Student Life: A Day at the Beach