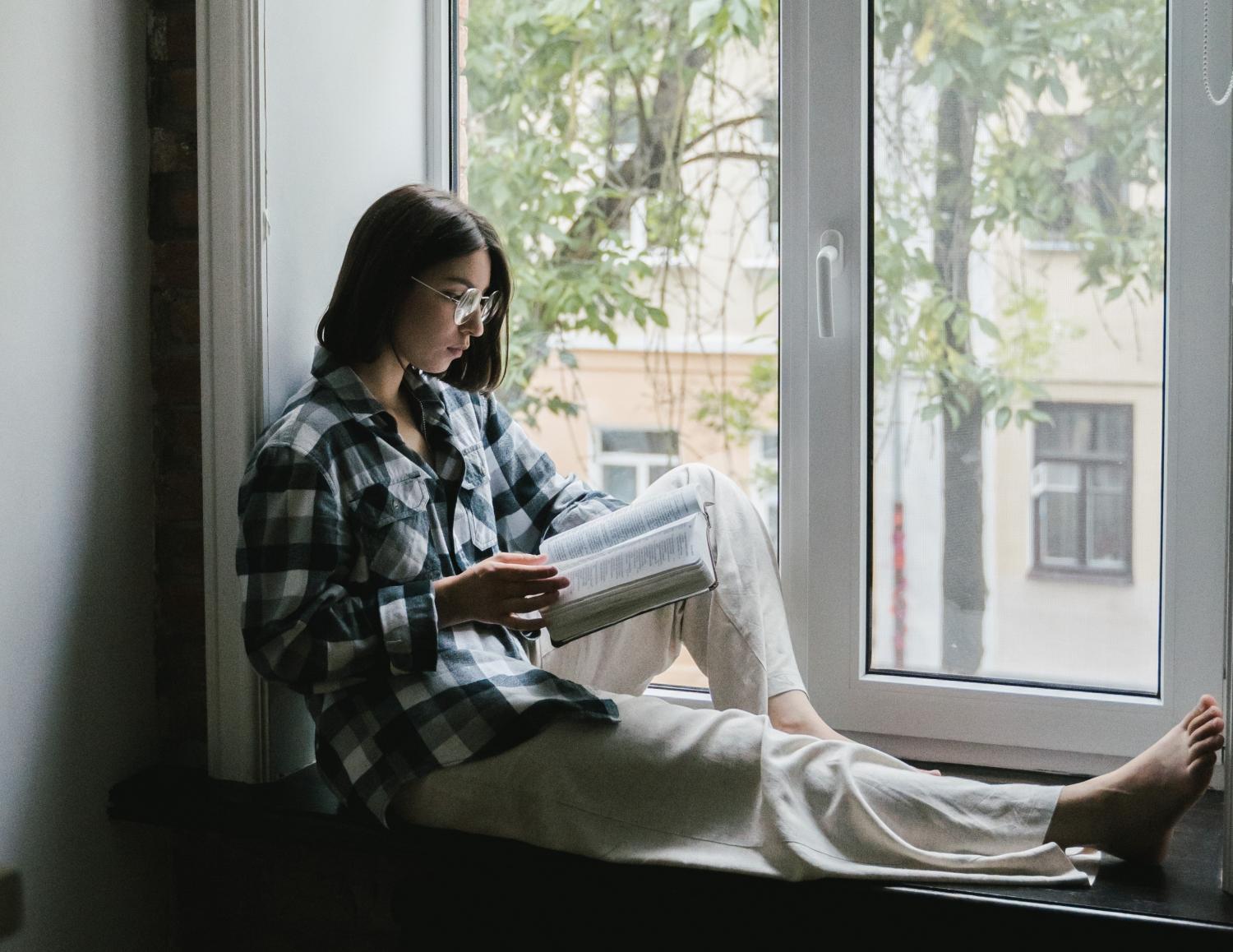 Assembly Summary: Be Patient and Trust in God
Author: Juliette McNair | Student, Living Education 2021
---
Estimated reading time: 3 minutes, 44 seconds.
Mr. Weston began his Living-Ed Assembly with a personal story. In his fourth year of marriage, he and his wife were using handed-down furniture. They were given a chair which they decided to re-cover rather than buy a new one. After a few months of saving, they chose material for their chair. But, looking around their living room, they realized their re-covered chair would clash with the curtains. They really needed to replace their dining room chairs and table, and even the furniture in the other rooms was not really what they had wanted. Mr. Weston said, "We started thinking about all the things we didn't have. We were thinking, It will be forever before we have everything we want."
"Most of life is still ahead!"
Mr. Weston said that what he and his wife hadn't understood was that most of life was still ahead of them. "When I go back and look at my life, the greatest aspiration I had after being sent into the field ministry was to become a minister pastoring a couple of churches… I never thought I would be anything beyond that." He said, "Right now, you are in the preparatory phase for what comes after." Decades of marriage, kids, homes, and successful careers are still ahead for most young people. "In the Assembly today, I'm going to discuss patience and the need to trust God in directing your life."
Joseph distinguished himself.
Joseph's brothers, antagonized by their father's favoritism and Joseph's dreams, sold him into slavery when he was only seventeen. While God was with Joseph in Egypt (Genesis 39:2), Joseph was proactive. When he was falsely accused and thrown into prison, "he didn't allow himself to wallow, but he did what he had to do." Joseph didn't focus on what he didn't have—Mr. Weston reminded the students that having everything does not bring happiness. He quoted Dennis Prager from The Rational Bible: Exodus:
In many ways, gratitude is the most important of all the good character traits. It is the most indispensable trait to both happiness and goodness. One can neither be a happy person nor a good person without gratitude. The less gratitude one has, the more one sees oneself as a victim… As for happiness, if you think of all the people you know, you will not be able to name one who is ungrateful and happy. The two are mutually exclusive.

– DENNIS PRAGER
Joseph distinguished himself for thirteen years. Rather than worry about what he couldn't accomplish, he focused on what he could do. Eventually, he achieved success and his power was second only to the Pharaoh.
"Joseph had no idea what God planned for him."
"God exalted Joseph, but He did so on His schedule." Joseph's journey from slavery to leadership in Egypt was rocky. Yet, Mr. Weston explained, "God had a long-term plan for Joseph, the sons of Israel, and for all mankind." God used Joseph to prepare for the institution of the Passover, providing for Ancient Israel and foreshadowing the sacrifice that would cover every human being's sins. "You have no idea how God is going to use you in the future."
"Joseph was a big picture person."
Genesis 45:1-5 recounts the emotional confrontation between Joseph and his brothers. Mr. Weston said, "They must have been terrified, knowing what they had done." While Joseph reminds them of what they had done to him, he also understood God's larger purpose. Joseph said, "Do not therefore be grieved or angry with yourselves because you sold me here; for God sent me before you to preserve life." Mr. Weston explained, "God allows some things to happen for a period of time to give people a chance to repent and change."
A Matter of Trusting God
In Mark 10:29-30, Christ explained that those who leave their possessions, families, and previous lives for His sake would "receive a hundredfold now in this time… and in the age to come, eternal life." Mr. Weston finished reading the scripture and said, "I can stand here and say that I can see this in my life. We must learn to trust that God will prosper us if we do what we should do." He said specifically to the students, "This is an educational phase for you—you're doing what you should be doing. There's a lot of life ahead of you. Don't become impatient and think you have to have it right now." Mr. Weston inspired the students to be thankful and to do their part as Joseph did. "Be patient and trust in God."
---
This post is part of our new series of student-written content for LivingEd-Charlotte. These summaries cover topics originally presented by our faculty and guest speakers in our weekly Forum and Assembly. For more Assembly-related content check out our Second Thoughts posts.
https://www.lcgeducation.org/wp-content/uploads/2021/03/cropped.jpg
1158
1500
Jonathan McNair
https://www.lcgeducation.org/wp-content/uploads/2021/02/logo_basic-website-300x94.png
Jonathan McNair
2021-03-02 13:30:00
2021-09-03 12:14:26
Assembly Summary: Be Patient and Trust in God