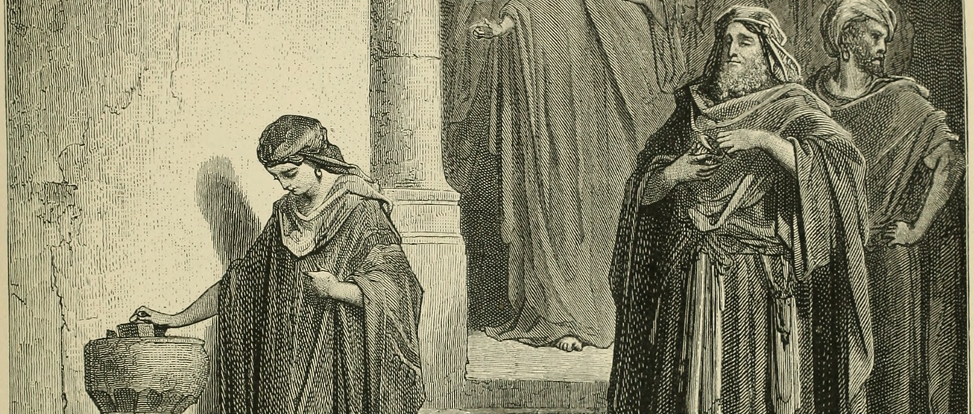 Image: Title: The Bible panorama, or The Holy Scriptures in picture and story Year: 1891(1890s) Authors: Foster, William A. (from old catalog) Subjects: Publisher: Contributing Library: The Library of Congress Digitizing Sponsor: The Library of Congress View Book Page: Book Viewer About This Book: Catalog Entry
Digging Deeper: Why could the widow give only two mites?
Author: Mr. Kenneth Frank | Faculty, Living Education
---
Estimated Reading Time: 5 min.
Did you know that Jesus' story about the widow who deposited two mites (smallest of Roman coins) into the Temple treasury may have suffered from clerical abuse?
Throughout the centuries, people have admired the self-sacrificing widow who gave all she had to God. However, you may have wondered: "Why did she have only two mites to give?" There is a backstory that could explain why she was so destitute. This story has a piercing message for religious leaders.
The Temple treasury was in the court of the women in Jesus' day. Albert Barnes' Notes on the Bible explains: "In that court there were fixed a number of places or coffers, made with a large open mouth in the shape of a trumpet, for the purpose of receiving the offerings of the people; and the money thus contributed was devoted to the service of the temple – to incense, sacrifices, etc." Luke 21:4 records that this widow contributed all she had: two mites (Greek lepta). A mite (lepton) denoted a small coin of brass, the smallest in use among the Jews. In today's US currency, a mite is estimated at about 1/8th of a cent! Editor J.R. Dummelow in A Commentary on the Holy Bible explains why she gave both instead of only one: "The widow offered two, because the rabbis forbade a single lepton to be placed in the almschest."
The account of the destitute widow is found in two of our four gospels (Mark 12:41-44; Luke 21:1-4). Many have read these verses and understood the primary lesson being the widow's sacrificial generosity. However, there is a background to this story that explains the widow's extreme poverty (penury Luke 21:4). That background is also given in two of the four gospels (Mark 12:38-40; Luke 20:45-47). In each case, Jesus rebuked the scribes; however, notice in particular the words that they "devour widows' houses." Bullinger in his Companion Bible explained, "Being occupied in making wills and conveyances of property, they abused their office." Albert Barnes in his Notes on the Bible added: "This they did under pretence of counseling them in the knowledge of the law and in the management of their estates. They took advantage of their ignorance and their unprotected state, and either extorted large sums for their counsel, or perverted the property to their own use."
Another abuse is explained in Word Pictures in the New Testament by A.T. Robertson, "They inveigled widows into giving their homes to the temple and took it for themselves." Vincent's Word Studies goes even further, "People often left their whole fortune to the temple, and a good deal of the temple-money went, in the end, to the Scribes and Pharisees. The Scribes were universally employed in making wills and conveyances of property. They may have abused their influence with widows." The Pulpit Commentary by Exell explained the scribes' influence over women: "Josephus specially alludes to the influence which certain of the Pharisees had acquired over women as directors of the conscience."
David Guzik in his Enduring Word Commentary explained the widows' poverty: "In that day, a Jewish teacher could not be paid for teaching – but he could receive gifts. Apparently, many scribes used flattery and manipulation to get big gifts from those who could least afford to give them – such as widows." The scribes were highly respected in their society whether they deserved it or not. Jesus explained that at least some were less than honorable in their teachings that encouraged people to financially support them generously. Guzik continues: "The Jews of Jesus' day taught that teachers were to be respected almost as God; they said that they deserved more honor and respect than any other people in life did. They taught that the greatest act someone could do is give money to a teacher. Of course, it was the teachers themselves who taught this!"
Jesus commended this widow for giving more in proportion to the treasury than all the wealthier donors who gave of their abundance (literally, "superabundance"). According to the Cambridge Bible for Schools and Colleges, "These rich men do not seem to have been observing the injunctions both sacred and Talmudic to give secretly, Mat. 6:4; Mat. 6:18." By contrast, Jesus warned in His Sermon on the Mount against a loud, public display of one's generosity: "Therefore when thou doest thine alms, do not sound a trumpet before thee, as the hypocrites do in the synagogues and in the streets, that they may have glory of men. Verily I say unto you, They have their reward (Matthew 6:2)." Jesus' words "do not sound a trumpet before thee" are explained by The Jamieson, Fausset and Brown Commentary: "The expression is to be taken figuratively for blazoning it, Hence, our expression to 'trumpet.'" These religious hypocrites did all they could to create an ostentatious display when they contributed to the treasury.
No wonder Jesus denounced such hypocrites. Albert Barnes in his Notes on the Bible declared, "If there is any sin of special enormity, it is that of taking advantage of the circumstances of the poor, the needy, and the helpless, to wrong them out of the pittance on which they depend for the support of their families; and as God is the friend of the widow and the fatherless, it may be expected that such will be visited with heavy condemnation." These sobering words warn every religious leader against uncaring fund-raising from impoverished donors, especially if the leader's income depends on it. We all will be wise to remember these words of the Psalms, "Sing unto God, sing praises to his name: extol him that rideth upon the heavens by his name JAH, and rejoice before him. A father of the fatherless, and a judge of the widows, is God in his holy habitation (Psalm 68:4-5)."
---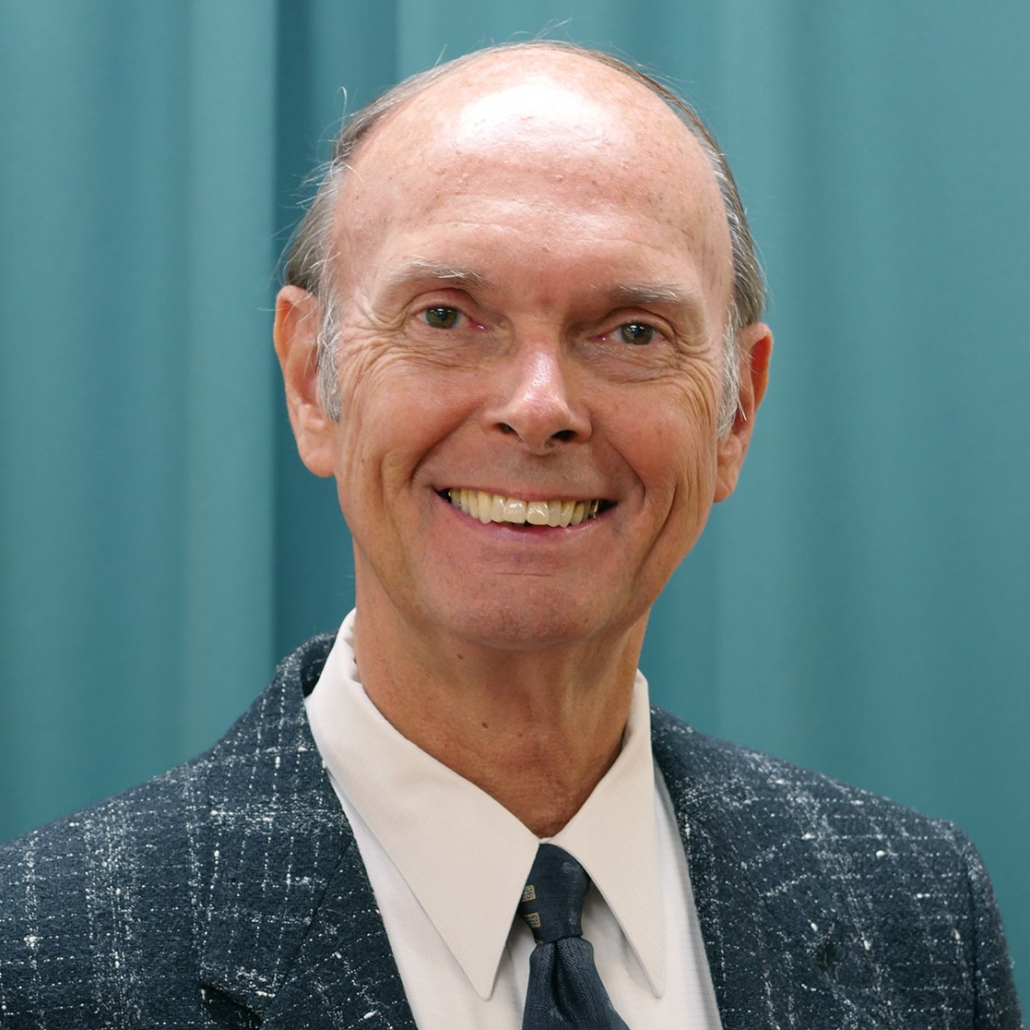 Kenneth Frank was born and raised in New Jersey, USA and attended Ambassador College, graduating in 1973. He served in the Canadian ministry from 1973-1999, after which he returned to the USA to pastor churches in Maryland, Virginia, and North Carolina for 15 years. Having earned a BA degree from Ambassador College he later earned a MA degree from Grand Canyon University before being assigned to the Charlotte office to teach at Living University, now Living Education. Currently, he teaches the Survey of the Bible course to the on-campus students and writes the Digging Deeper column for our online Bible study program. He is married, has four children, and seven grandchildren.
https://www.lcgeducation.org/wp-content/uploads/2020/05/widows-mite-wiki-commons.png
414
974
Rebekah Ross
https://www.lcgeducation.org/wp-content/uploads/2021/02/logo_basic-website-300x94.png
Rebekah Ross
2020-05-12 10:04:00
2021-08-12 17:28:07
Digging Deeper: Why could the widow give only two mites?