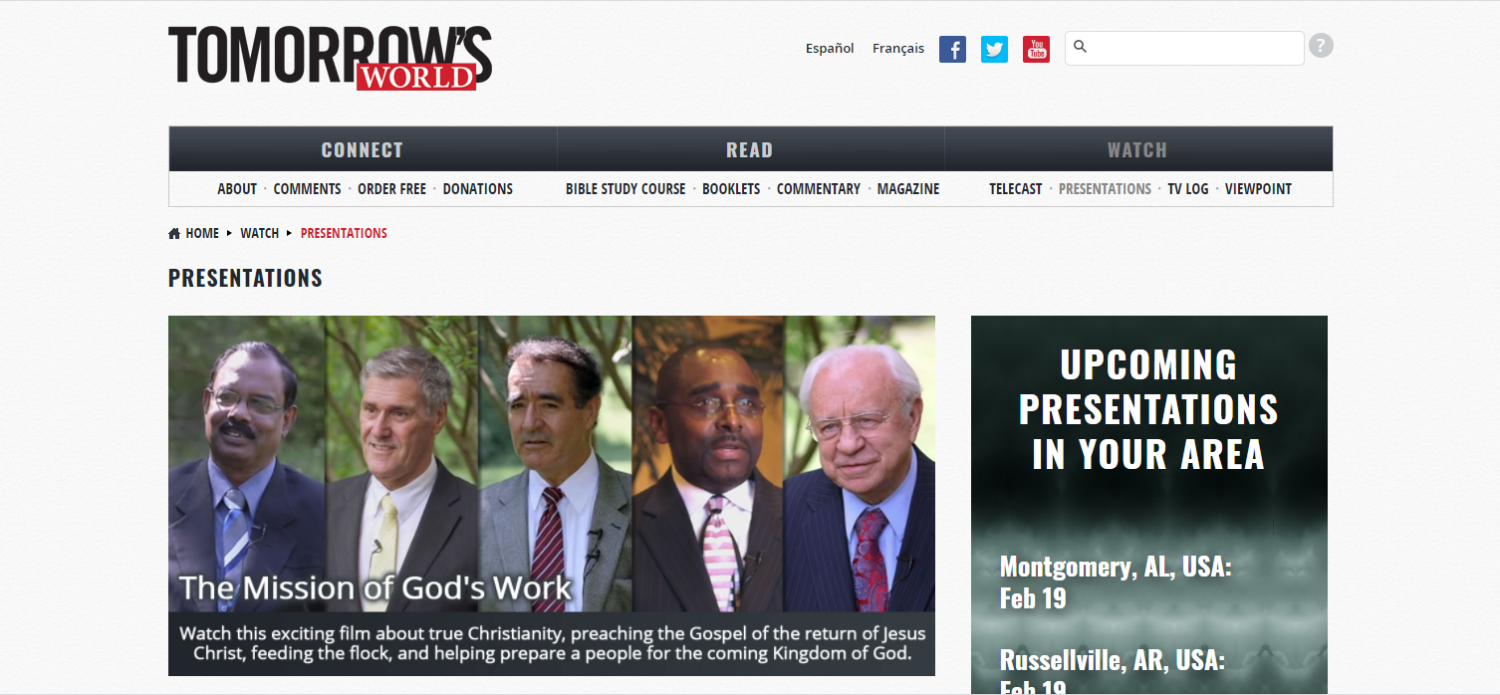 Assembly Summary: CAD – A Story in Stats
Author: Yolanda Watt | Student, Living Education – Charlotte, 2021-22
---
Estimated Reading Time: 3 min.
Mr. Rod McNair opened his recent lecture by stating the mission of the Church Administration Department (CAD), which is to oversee the ministry—which, in turn, oversees the congregations around the world.
In John 21:15–17, Peter was given a directive to feed and oversee the flock, and CAD takes this very seriously, working hard to provide coordination, communication, and administrative support to the ministry.
Mr. McNair mentioned that in Noah's day, he had no coworker to help him with the Work. The Church talks about statistics because, with them, we can compare the growth and see the fruits of our efforts. Imagine if, year after year, while the Gospel was being preached, no one responded to the message—this was what it was like for Noah, who still remained faithful to God.
Mr. McNair gave some statistics regarding Tomorrow's World Presentations (TWPs) and the brethren around the world.
Tomorrow's World Presentations
There have been a total of 30,905 TWP attendees from 2006 to the present. TWPs are a campaign that started during the Worldwide Church of God, but in 2006, pastors became more heavily involved in making them more localized.
On average, two percent of those invited to TWPs within the United States actually attend them—in other words, out of every 100 people who are invited to a TWP, 98 of them will not attend.
On average, 4.2 percent of those invited to a TWP outside the U.S. will attend.
The topics that TWP attendees want to hear about the most are:
Prophecy, including topics such as "the rapture," heaven and hell, and life after death. Information on prophecy has been requested about 50 percent of the time.
Holy Days—it is surprising to see how much people want to hear about this topic. Information on the Holy Days has been requested about 30 percent of the time.
Holidays
The Sabbath
The Ten Commandments
The Holy Spirit
Marriage, Divorce, and Remarriage
Baptism and Repentance
When planning for TWPs, CAD begins working at least eight weeks ahead, since they have to print out brochures and have them mailed out to those on the list of subscribers in a given city. There have been 1,265 TWPs since 2006. Mr. McNair showed the students a map of the U.S. that highlights the areas where we commonly have TWPs, mentioning that we have a lot of work to do.
General Church Statistics
There are 417 congregations in the Living Church of God worldwide.
LCG has 2,600 prospective members who are seventeen years old or younger.
There have been 6,200 baptisms since 1991. This shows that the Work is still being done.
LCG has 5,598 members, prospective members, and children in the U.S., and it has 6,458 members, prospective members, and children in 92 other countries.
There are 99 scattered brethren around the world who do not have a congregation in their country.
An estimated 60,000 people contact LCG's Personal Correspondence Department with questions in the last fifteen to sixteen years.
Mr. McNair concluded his lecture with Matthew 24:45–51, reiterating that our job is to do the Work; God is the one who brings the harvest, and we need to work in the field.
https://www.lcgeducation.org/wp-content/uploads/2022/02/TW-page.png
695
1500
lcgadmin
https://www.lcgeducation.org/wp-content/uploads/2021/02/logo_basic-website-300x94.png
lcgadmin
2022-02-10 14:27:00
2022-02-18 09:37:51
Assembly Summary: CAD – A Story in Stats