You are here:
Home
1
/
Blowing Rock Holy Day Weekend 2020
Blowing Rock Holy Day Weekend
What is the purpose of this weekend?
In Exodus 13, God instructed the Israelites to remember their escape from Egypt year after year. They were commanded to remind their children of the miraculous intervention that God had shown them as He brought them out of Egypt. We recognize that God has shown us the same mercy and kindness. Each year, we observe the Days of Unleavened Bread and recount the same lessons.
But are the lessons lost as we try to squeeze our observance of God's Passover and Holy Days into our normal routine? By getting away from the hustle and bustle and gathering with our brethren as we begin the Spring Holy Day season, we give added weight to these special days. We focus on fellowshiping, learning, and worshiping God together.
See you at Blowing Rock!
~ Jonathan McNair
CHOOSE YOUR ACCOMMODATIONS
CORRIHER LODGE

BRCC COTTAGES

WOMEN'S DORM

MEN'S DORM
please note, rooms require a minimum occupancy of 2-per room
CORRIHER LODGE
Corriher Lodge is Blowing Rock Conference Center's principal building and hub of activity.  There are many pleasant gathering areas for our guests to enjoy quiet conversation and fellowship, from Corriher Lodge's South Lobby with its gas log fireplace, to decks and porches, to small tucked away spots for more intimate conversations.
Each of the 51 lodge guest rooms is comfortably appointed two full-sized beds and a private bath. Five of the guest rooms are handicapped-accessible. Wi-Fi is available throughout Corriher Lodge. ​​
Recommendation: families/couples
NOTE: these rooms require a minimum occupancy of 2-per room.  Singles wishing to stay in this lodge must register with a roommate.
BRCC COTTAGES
BRCC's Cottages
 are perfect for small retreats or a family get-away, whether for a fall color-viewing weekend or a week long summer vacation!
Our four cottages are actually two duplex buildings.  Each building contains two cottages.  One building contains cottages A and B; the other is cottages C & D.  Each cottage will accommodate six persons, with one bedroom having a queen bed and the other bedroom with 2 single beds and a bunk bed set.  Each cottage's kitchenette is equipped with a 3 burner stove, small oven & refrigerator, microwave, & coffee maker. A "kitchen kit" of pots & pans, dishes and utensils are available upon request.
Sheets, pillows, and blankets are provided for beds.
Recommendation: couples/families
WOMEN'S DORM
We have dorm-style facilities reserved for single women.
MEN'S DORMS
We have dorm-style facilities reserved for single men.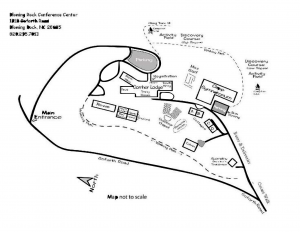 4
Southern Conference Youth Center
Sabbath wear is required for Services, Night to be much Observed, and Passover.

Thursday and Friday will entail family friendly, group activities. Casual wear and comfortable shoes are advised.

The dance is a sock-hop. Dress code: dressy-casual.
The Living Education hosted Spring Family Weekend will be April 8th – April 12th.  What better way to enjoy the Spring Holy days, than together?
*Please arrive between 3:00-6:00 PM at the facility.
The Blowing Rock Conference Center
1818 Goforth Rd, Blowing Rock, NC 28605
Adult: $189
Child: $165
Price is all-inclusive: rooms and 9 meals. Price is per person. 
All accommodations and meals are on-site! The price is all-inclusive, please be sure to include any allergies when registering
Bed linens (including pillows and blankets) and towels are provided in all lodging accommodations.
Weather… "Blowing Rock's weather is very changeable… regardless of the season, you should bring rain gear and a warm jacket."  ~ BRCC Staff
On-site/off-site? As the focus of this weekend is spending time together, please plan to stay in the accommodations on-site. Also, please plan to enjoy all the meals and activities on-site. While shopping and restaurants are not far away, the purpose for the weekend is undermined if participants don't participate and instead, become a tourist for the local area. Thanks for your understanding!
What about children? Children are definitely welcome, and will be involved with many of the activities, together with their parents. We will have a "children's corner" at selected times to allow parents time to fellowship while knowing their kids are occupied and safe.
It is handicap accessible. We have reserved those rooms, and request that you contact us directly.
Ready to register? We can't wait to see you!
Click the link below to get started. The form will need to be completed for every individual you are registering.
Questions or concerns? Reach us at [email protected]
Remember to register your whole family. The registration form must be completed for every individual!
ARRIVAL

ARRIVAL

NTBMO

1st DUB

1st DUB

SABBATH SERVICES

DANCE

DANCE

DEPARTURE